Play Bikini Paradise, a captivating slot game exclusively on Teen Patti Master. One can earn real money playing this game just by spinning the slot and testing their luck. Offering an alluring twist to conventional slot games, Bikini Paradise tempts players with substantial prizes, an enticing beach theme, and a chance to unwind in the lap of virtual luxury.
Rules of Playing Bikini Paradise on Teen Patti Master
Discover the rules that shape the experience of Bikini Paradise and prepare to soak in the sun-drenched winnings: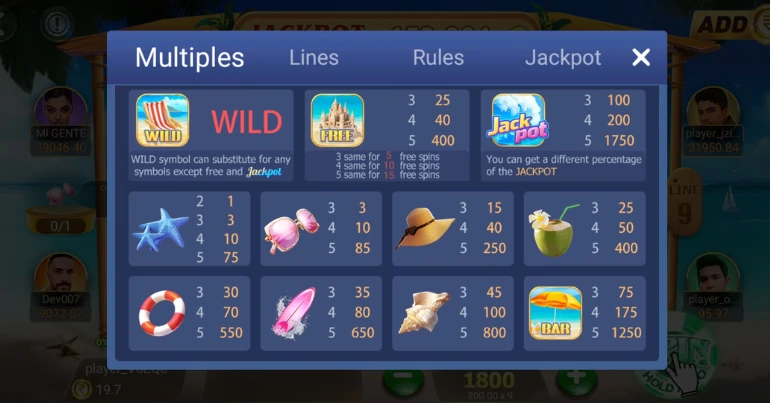 Symbols of Serenity
Encounter 11 vibrant symbols adorning the slot machine's reels, each exuding the allure of the beach paradise. The WILD symbol takes center stage, capable of substituting for any symbol except FREE and JACKPOT. Trigger FREE spins by aligning 3, 4, or 5 FREE symbols and unlock the realm of limitless spins.
The Riches of the Jackpot
Unveil the potential for grandeur by aiming for the JACKPOT symbol. This symbol brings forth the promise of a unique percentage of the Jackpot, offering players the chance to score big.
Expanding Wins
Align identical symbols across the first three rows along a payline to secure a win. Amplify your rewards by landing matching symbols on the fourth or even fifth row, enhancing your paradise experience.
How to Play Bikini Paradise Game
Embrace the allure of Bikini Paradise with these steps, as you set out on a journey to uncover hidden treasures:
Wager Your Delight
Choose your wager from a range spanning Rs. 1.8 to Rs. 1800. Your bet directly influences your potential winnings, making each choice a step closer to paradise.
Spin to Prosper
Initiate the spinning of the reels by simply clicking the spin button. As the reels dance into motion, the beach-themed symbols come alive, weaving an enchanting tapestry of possibilities.
Jackpot Pursuit
Your pursuit of grandeur involves the treasured JACKPOT symbol. Secure this symbol to unveil the prospect of substantial rewards, ranging from 2% to an astounding 40% of the jackpot prize.
Tips and Tricks to Win Bikini Paradise Game
Navigate the sandy shores of Bikini Paradise with these strategic insights:
1. Responsible Pursuit: While the allure of paradise beckons, ensure a responsible approach to your gaming experience. Set limits on your wagers and play responsibly.
2. Symbol Insights: Immerse yourself in the beach-themed world of Bikini Paradise by familiarizing yourself with the distinct symbols. This knowledge enhances your chances of strategically aligning symbols for rewarding wins.
User Experience
Transport yourself to a realm of sun-soaked luxury as you indulge in the captivating visuals and sounds of Bikini Paradise. The game's immersive beach theme, adorned with characters and symbols of the paradise, creates an experience that's both relaxing and exhilarating.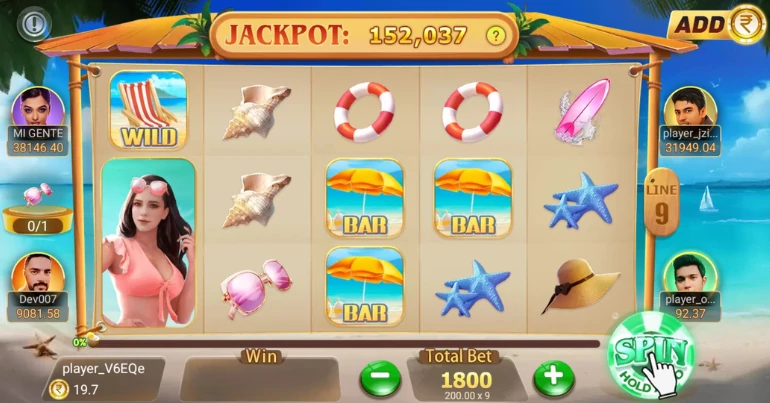 Conclusion
Embrace the charm of sun, sand, and riches with Bikini Paradise on Teen Patti Master. This slot game offers an alluring blend of captivating visuals, soothing sounds, and substantial rewards. As you tread the shores of this virtual paradise, remember to play responsibly and set your limits.