Apart from traditional roulette Teen Patti Master have brought you a new version of roulette that is Car Roulette. In this game your favrourite car brands spin in the digital roulette and amongst them one is the winner. Overall the game will give a thrill of some racing arena with it's amazing or I say dashing graphics along with racing sounds. Download the Teen Patti Master Apk to enjoy this game.
Rules of Playing Car Roulette On Teen Patti Master
Uncover the rules that steer the wheels of Car Roulette:
1. Car Icons: Instead of traditional numbers, the wheel features 8 beloved car brand icons, each with its designated payout.
2. Icon Payoffs: Get acquainted with the car brands and their corresponding payouts:
Ferrari: 40 times the bet amount
Lamborghini: 25 times the bet amount
Porsche: 15 times the bet amount
Mercedes: 10 times the bet amount
BMW: 5 times the bet amount
Audi: 5 times the bet amount
Mahindra: 5 times the bet amount
TATA: 5 times the bet amount
Lucky Event: A special icon that rewards 120 times the bet amount.
How to Play Car Roulette Game
Unravel the mechanics of Car Roulette with these straightforward steps:
1. Placing Your Bet: Within a 10-second timeframe, select your preferred car icon and place your bet, ranging from Rs. 10 to Rs. 10,000 and beyond.
2. Wheel Spinning: Witness the digital roulette wheel in motion, accompanied by the exhilarating sound of racing anticipation.
3. Outcome Unveiled: As the wheel comes to a halt, the chosen car icon will emerge as the winner. Players who wagered on the winning icon claim their rewards, and a new game cycle commences.
Tips and Tricks to Win Car Roulette Game
Enhance your Car Roulette strategy with these valuable insights:
1. Analyze Previous Outcomes: Scrutinize past results to identify trends and patterns that might influence your betting decisions.
2. Prudent Betting: Exercise caution in wagering, optimizing your bets to maximize potential winnings while minimizing losses.
3. Responsible Play: Embrace responsible gambling practices by setting limits and adhering to them.
4. Observational Advantage: Gain an edge by observing what successful players bet on and integrating their insights into your strategy.
User Experience
The immersive experience of Car Roulette on the Teen Patti Master app is further enriched by the evocative racing sound effects that accompany the spinning wheel. Feel the rush as if you're at the heart of a high-stakes racing event.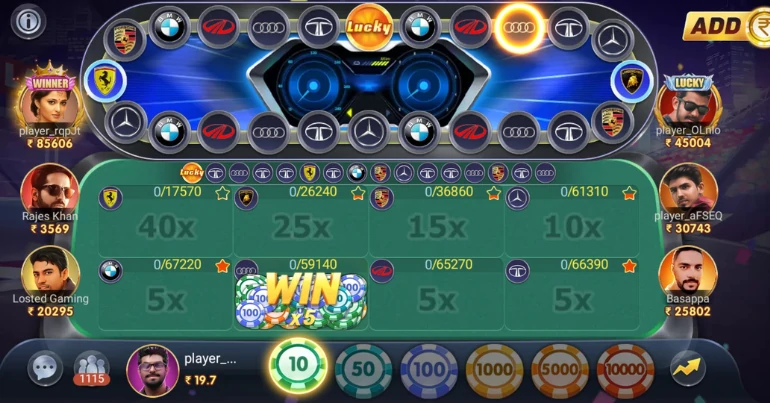 Conclusion
Car Roulette on the Teen Patti Master app introduces a fresh dimension to the age-old game of chance. As you dive into the world of betting on iconic car brands, remember to employ shrewd strategies, revel in the dynamic gameplay, and prioritize responsible play. The fusion of traditional roulette thrill with the allure of famous car icons creates a gaming encounter that is bound to leave you exhilarated and eager for more so start playing now.