Jhandi Munda is an exciting Indian board game now available on Teen Patti Master Apk. This game is played using six six-sided dice and its origins can be traced in the northeastern part of India. This traditional game has charmed generations, captivating both adults and kids.
The digital game on Teen Patti Master Apk is capable of entertaining all range of players from beginner level to expert level. Though deeply rooted in India, Jhandi Munda's allure transcends borders, with variations being played in Nepal and even the United Kingdom. Prepare to delve into the world of dice and symbols in this captivating game!
Rules of Jhandi Munda Game on Teen Patti Master
Each player predicts the outcome of the dice rolls by placing bets on symbols they think will land face-up.
The player with the most accurate predictions wins the round.
If the symbol you bet on doesn't appear, the dealer can retract your bet.
In some cases, all bets from players who correctly guessed only one symbol might be canceled by the dealer.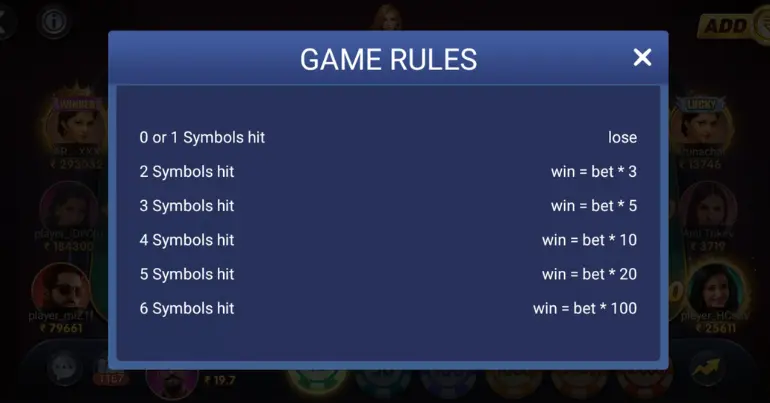 How to Play Jhandi Munda Game on Teen Patti Master
Jhandi Munda Game involves a tabletop board divided into six sections, each adorned with a unique symbol: Spade, Club, Diamond, Heart, Crown, and Flag. The dealer throws six dice, each marked with these symbols. Players place bets on the symbol of their choice, anticipating which symbol will appear most frequently when the dice are thrown.
For example: Suppose Player A bets on the Crown symbol. If, after the dice are rolled, the Crown appears most frequently among the face-up symbols, Player A wins. However, if another symbol dominates the rolls, Player A's bet is unsuccessful.
Tips and Tricks to Win Jhandi Munda Game on Teen Patti Master
Observation is Key: Pay close attention to the trends of symbols that appear during the dice rolls.
Spread Your Bets: Instead of focusing solely on one symbol, consider placing bets on multiple symbols to increase your odds.
Budget Wisely: Set a betting budget for yourself and avoid exceeding it, ensuring a responsible and enjoyable gaming experience.
User Experience
The Jhandi Munda game on the Teen Patti Master app offers an immersive and visually appealing experience. The vibrant graphics and smooth animations make the game engaging and enjoyable. The user-friendly interface ensures that players can easily place their bets and track the outcomes of the dice rolls. Thus, every player of any range or calibre is fit to play this game without worrying about strategizing.
Conclusion
Jhandi Munda, featured on the Teen Patti Master app, is a captivating Indian board game that has stood the test of time. Its simplicity combined with the thrill of predicting symbols and dice outcomes make it a must-try for players seeking a unique gaming experience. Whether you're familiar with its roots or new to the game, Jhandi Munda promises excitement and enjoyment. Embrace the dice, choose your symbols wisely, and immerse yourself in the world of Jhandi Munda!