Experience innovation and exciting gaming with Muflis Teen Patti, a popular variation of the traditional game available on the Teen Patti Master Apk. Get ready for a twist in the rules, where the strength of cards is inverted, and the weakest cards of traditional Teen Patti become the strongest in Muflis Teen Patti. If you think that you always get weaker cards in the game of Teen Patti, this variation is a perfect platform for you to win real money prizes.
Discovering the Essence of Muflis Teen Patti
Muflis Teen Patti introduces a refreshing twist to the classic game, turning card strength conventions on their head. Offered on the Teen Patti Master app, this variation draws the interest of players looking for a unique and challenging gaming experience.
Rules of the Muflis Teen Patti Game
Muflis Teen Patti subverts traditional card hierarchy, offering a distinct gameplay experience while retaining familiar aspects. Here's a comprehensive look at the key rules: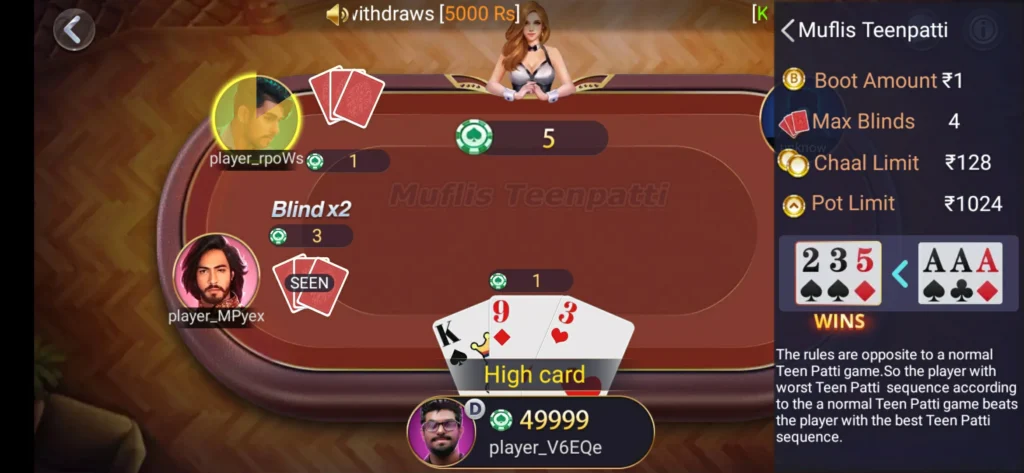 Players can find tables with varying boot values and entry requirements. Tables start from a minimum boot value of Rs. 0.3 which requires a minimum balance of Rs. 10 on your account to a minimum boot value of Rs. 50 which requires a minimum balance of Rs. 2500.
Each table accommodates a maximum of five players, and three cards are distributed to each player.
Players can choose to start with a blind chaal or reveal their cards and play a chaal with a higher value.
If a player reveals their cards, they can also choose to pack if they find their hand unsatisfactory.
A side show option allows players to compare their cards with another player's cards, challenging the strength of hands.
In side shows, the player with weaker cards wins and continues, while the player with stronger cards exits.
The game continues with chaals until only two players remain.
The final two players can use the "show" option to compare their cards, and the one with the weaker set of cards wins the game.
How to Play Muflis Teen Patti Game
Getting Started: Launch the Teen Patti Master app and access the Muflis Teen Patti game.
Table Selection: Choose a table that aligns with your preference, considering the boot value and minimum buy-in.
First Turn Choices: At the start, you have three options: initiate a blind chaal, reveal your cards and play a chaal, or reveal and pack if unsure.
Subsequent Turns: After the initial turn, players can reveal their cards and use the side show option to challenge opponents.
Surviving and Thriving: Keep playing chaals, using side shows strategically, until only two players remain.
Determining the Winner: The last two players use the "show" option to reveal cards, with the player possessing weaker cards emerging victorious.
Tips and Tricks to Win Muflis Teen Patti Game
Rule Familiarity: Gain a thorough understanding of the game rules before diving in.
Table Selection: Choose a table that suits your skill level and preferences.
Practice for Confidence: Hone your skills on practice tables before entering real games.
Use Side Show Wisely: Employ the side show option to your advantage when unsure about your cards.
Play Responsibly: Adhere to responsible gaming practices for an enjoyable experience.
Unique Strategy: Unlike traditional Teen Patti, avoid series or sequence series of the same color or number.
User Experience
Muflis Teen Patti on the Teen Patti Master app seamlessly introduces players to the concept of inverted card strengths while providing a smooth and immersive gaming experience. The graphics of the game are made to present a realistic gaming experience wherein a player would feel as if they are playing in a real grand casino.
Conclusion
Muflis Teen Patti offers an intriguing twist on the classic game, inviting players to explore a new dimension of strategy and prediction. As you dive into this variant on the Teen Patti Master app, remember to master the rules, refine your skills, and embrace responsible gaming practices. Whether you're a seasoned player or a newcomer, Muflis Teen Patti promises an engaging and rewarding gaming journey unlike any other.