Play "Red vs Black" on the Teen Patti Master app, where iconic characters Bhalaldev from the movie Bahubali and a regal queen from an Indian state engage in a high-stakes Teen Patti battle. As you choose sides and predict the winner, discover the game's nuances, payouts, and strategies for a chance to win big.
Rules of Red vs Black Game on Teen Patti Master
Red vs Black Game brings the epic clash of Bhalaldev and the Queen to the virtual card table. The rules are straightforward yet intriguing: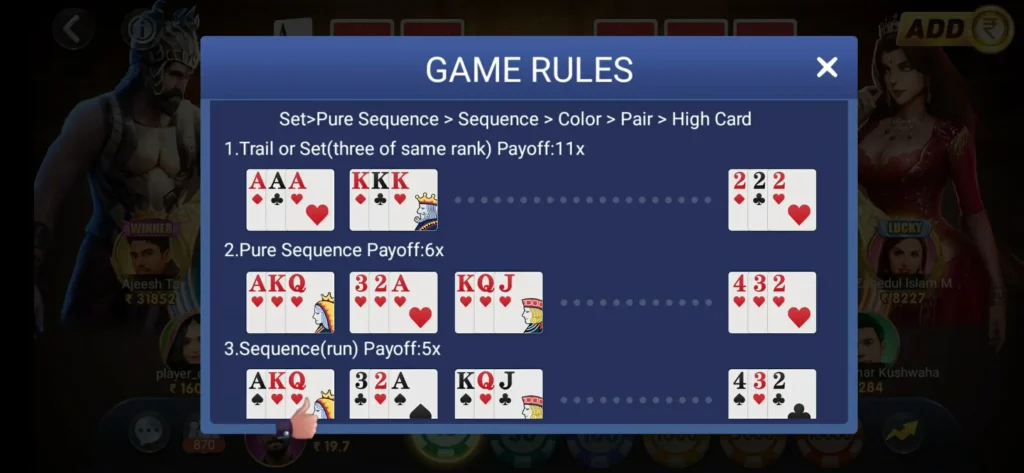 1. Winning Hand: The bot with the stronger hand in Teen Patti claims victory.
2. Hand Hierarchy and Payoffs:
Trail or Set: Pays 11 times the bet amount.
Pure Sequence: Pays 6 times the bet amount.
Sequence: Pays 5 times the bet amount.
Color: Pays 4 times the bet amount.
Pair 8-A: Pays 3 times the bet amount.
How to Play Red vs Black Game on Teen Patti Master
Immerse yourself in the world of Red vs Black with these simple steps:
1. Choose Your Side: Decide between the formidable Bhalaldev and the regal queen as your chosen character.
2. Place Your Bet: Set your wager from Rs. 10 to Rs. 10,000 or more. You have 10 seconds to place your bet before the game begins.
Tips and Tricks to Win Red vs Black Game on Teen Patti Master
Enhance your chances of victory with these strategic insights:
1. Analyze Previous Results: Study past outcomes to identify patterns and trends that could influence your betting choices.
2. Probability Play: Use probability calculations to assess potential hand combinations and make informed predictions.
3. Responsible Gaming: Approach the game responsibly, setting a predefined budget to ensure an enjoyable gaming experience.
User Experience
Red vs Black game provides an immersive and captivating user experience on the Teen Patti Master app. Engaging graphics, fluid gameplay, and the allure of iconic characters create an authentic atmosphere of excitement.
Also, you can check: Zandu Game on Teen Patti Master
Conclusion
Red vs Black offers an enticing blend of entertainment and strategy, introducing players to a unique variation of Teen Patti. As you align with Bhalaldev or the queen, consider hand hierarchies, analyze previous results, and employ probability-based tactics to maximize your chances of success. Remember that it's a game involving real money, so responsible gaming is key. Set your limits, embrace the thrill, and embark on the journey of "Red vs Black" to enjoy the excitement of the Teen Patti battle today!