Enter the world of excitement with AK47, a dynamic variation of the traditional Teen Patti game. This thrilling twist, available on the Teen Patti Master app, adds a layer of intrigue to the familiar gameplay, where Ace, King, 4, and 7 cards hold the power to transform into jokers, enhancing the thrill of the game. Get ready to explore this exhilarating variant and learn how to master it.
Discovering the Essence of AK47 Game
AK47 breathes new life into the classic Teen Patti game, offering players a fresh and exhilarating experience. The Teen Patti Master app brings this excitement to your fingertips, allowing you to enjoy AK47 Game anytime and anywhere.
Rules of the AK47 Game
AK47 retains the essence of Teen Patti while introducing exciting new elements. Here's a comprehensive look at the essential rules: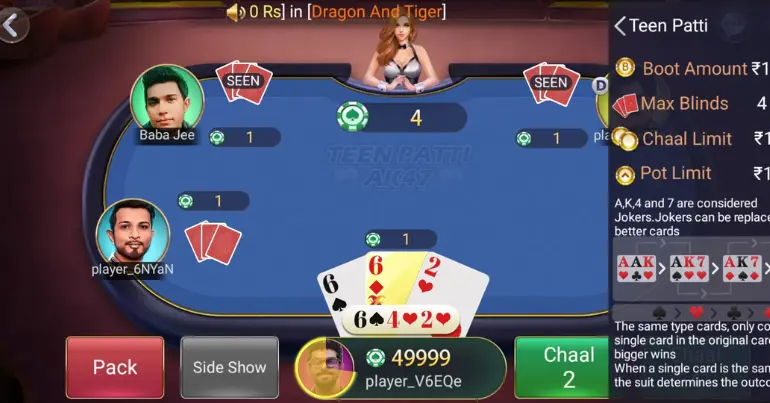 Players can choose from various tables, each requiring a minimum boot and balance. The tables range from minimum boot value of Rs 0.3 and minimum required balance of Rs. 10 in your account to minimum boot value of Rs. 50 and minimum required balance of Rs. 2500 in your account.
Every player receives three cards at the outset.
Players have three options for their initial turn: play a blind chaal, play a chaal after seeing their cards, or pack.
A blind chaal involves relying solely on luck and confidence, as players can't see their cards.
Players playing chaal after viewing their cards must place higher chaal values than blind chaal players.
Cards featuring Ace, King, 4, and 7 characters can be converted into jokers, creating stronger combinations.
After the first turn, players can use the side show option to compare cards.
In a side show, the player with stronger cards wins, while the weaker hand exits the game.
The game continues until only two players remain.
The final two players use the "show" option to reveal their cards, determining the winner.
Steps for the Gameplay
Getting Started: Launch the Teen Patti Master app and access the AK47 game.
Table Selection: Choose a table based on your preferences and available balance.
Initial Turn Choices: At the beginning, you have three options: view your cards and pack, view your cards and play a chaal, or play a blind chaal.
Continuing the Game: Play chaals, waiting for your turn to arrive again.
Utilizing Side Show: After viewing cards, use the side show option to challenge opponents.
Reaching the Finale: As players drop out, the game narrows down to the last two participants.
Determining the Winner: Use the "show" option to reveal cards, with the player possessing the stronger hand claiming victory.
Tips and Tricks to Win AK47 on Teen Patti Master
Master the Rules: Familiarize yourself with the game's rules for confident gameplay.
Practice for Excellence: Hone your skills on practice tables before engaging in real games.
Strategic Table Choice: Choose a table that aligns with your skill level and strategy.
Responsible Play: Adhere to responsible gaming practices for an enjoyable experience.
Leverage Jokers: Convert Ace, King, 4, and 7 cards into jokers to create stronger sets.
Create Strong Combinations: Utilize jokers to form trails/sets, color series, sequences, pairs, or high cards.
User Experience
AK47 on the Teen Patti Master app seamlessly introduces players to an electrifying twist on the traditional Teen Patti game, delivering an immersive and exhilarating gaming experience.
Conclusion
AK47 invites players to explore a dynamic variation of Teen Patti, infusing the game with excitement and unpredictability. As you navigate this variant on the Teen Patti Master app, remember to understand the rules, polish your skills, and embrace responsible gaming habits. AK47 Game promises a captivating and rewarding gaming journey, allowing players to elevate their gameplay through strategic thinking and the transformational power of jokers.