Andar Bahar is a thrilling card game on Teen Patti Master Apk, where luck and skills are tested. Winning or losing in this game completely depends on the art of prediction. The players need to predict whether a particular card will land in the Andar box or Bahar box.
This is a fun and exciting game which can be played easily by every range of players from beginners to experts. Rules of this game are easy to understand and moreover, players do not have to worry about strategies in the game because this game does not involve any strategies, which makes this game one of the smoothest games to play.
Dive into the exciting world of Andar Bahar and test your luck to win real money.
How to Play Andar Bahar Game?
In Andar Bahar, you're presented with two sets of boxes, Andar and Bahar. The dealer shuffles a single deck of cards before each round. The game begins when the dealer reveals a card at the center of the table.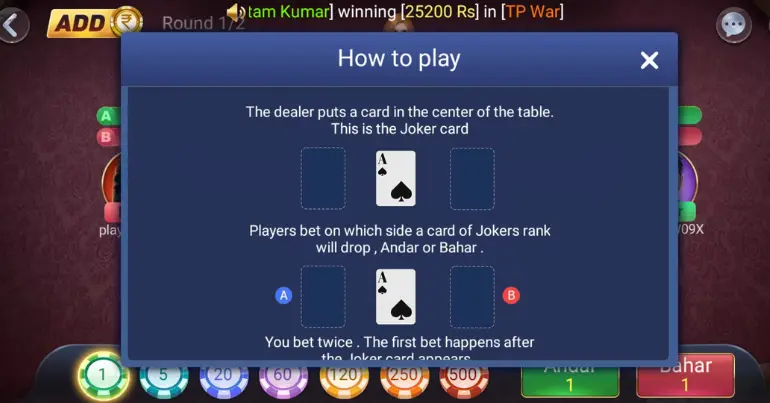 Placing Initial Bets:
Players place their bets by selecting either the Andar or Bahar box.
These initial bets are placed on the "1st bet" boxes.
Once all bets are placed, the dealer commences drawing cards, alternating between Andar and Bahar boxes.
First Card Draws:
If the card appears in the first drawn card for Bahar, players betting on Bahar win with a payout of 2.25 times their initial bet.
If the card appears in the first drawn card for Andar, players betting on Andar win even money.
Second Chance:
If the card doesn't appear in the first two cards, players have a second chance to bet, known as the "2nd bet."
The dealer draws cards again, and if the Joker appears in the second bet, it pays out 2 times the bet amount, while the first bet pays even money.
Winning Payouts:
After the second chance, if your chosen box contains the revealed card, you win even money.
Rules and Betting:
Andar Bahar tables are available in four different stakes: Rs 0.5-250, Rs 1-500, Rs 10-5000, and Rs 20-10000.
Minimum entry requirements for tables range from Rs 1 to Rs 1000.
Once you place your bet, it cannot be withdrawn, so remember to play responsibly.
Tips and Tricks to Win Andar Bahar on Teen Patti Master
Observe Patterns: Keep an eye on the cards drawn and try to identify patterns.
Manage Your Bets: Control your betting amounts to ensure a longer gameplay session.
Stay Calm: Andar Bahar is a game of luck, so stay patient and composed.
User Experience
Andar Bahar game on Teen Patti Apk is a very user friendly game which makes the gaming experience enjoyable. Simplified user interface helps the players to navigate through various functions in the game easily so that the players do not get confused.
One more attraction of this game is its graphics. The graphics of this game are designed in such a way that the players can experience the thrill of playing in a real grand casino. Thus, user experience of the game is very engaging and enjoyable.
Conclusion
Andar Bahar on the Teen Patti Master app is a simple yet exciting game of chance that allows players to test their luck and intuition. With straightforward rules and engaging gameplay, it's a game that offers entertainment and the potential for winnings. Remember to play responsibly and enjoy the thrill of Andar Bahar!